Model NO.: RTJ45A

Certification: CE, ISO

Customized: Customized

Condition: New

Color: Customized

Cutting Capacity of Scoring Saw: 3200mm

Saw Blade Tilting Angel: 90°-45°

Max Diameter of Main Blade: 400mm

Main Blade Diameter: 30mm

Trademark: SAMACH

Transport Package: Wooden Case

Specification: CE

Origin: China

Panel Saw (RTJ45A) 3200mm Length Saw Blade 400mm 5.5kw Motor Sliding Panel Saw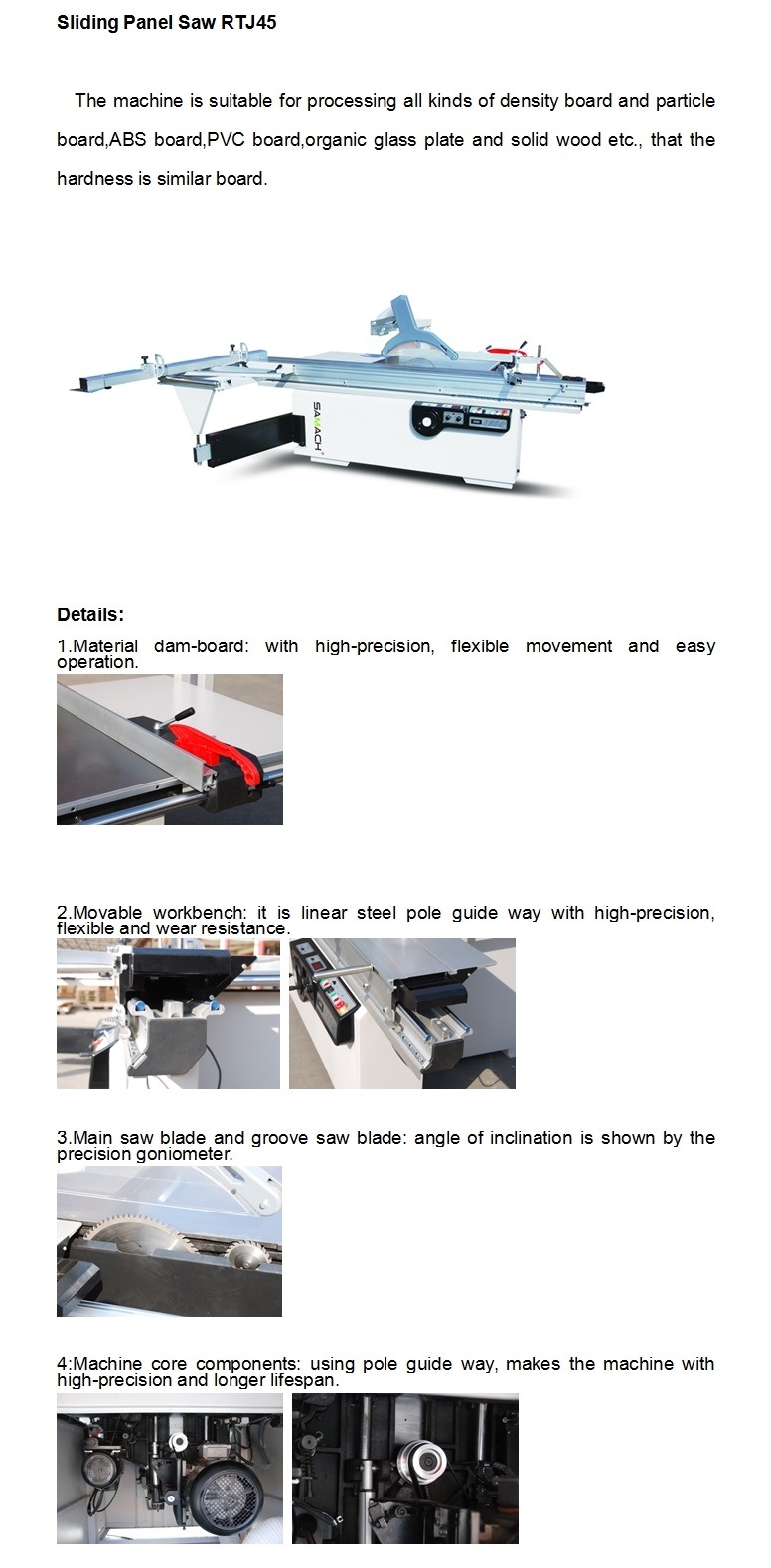 The machine is suitable for processing all kinds of density board and particle board,ABS board,PVC board,

organic glass plate and solid wood etc., that the hardness is similar board. 

 

 

Details: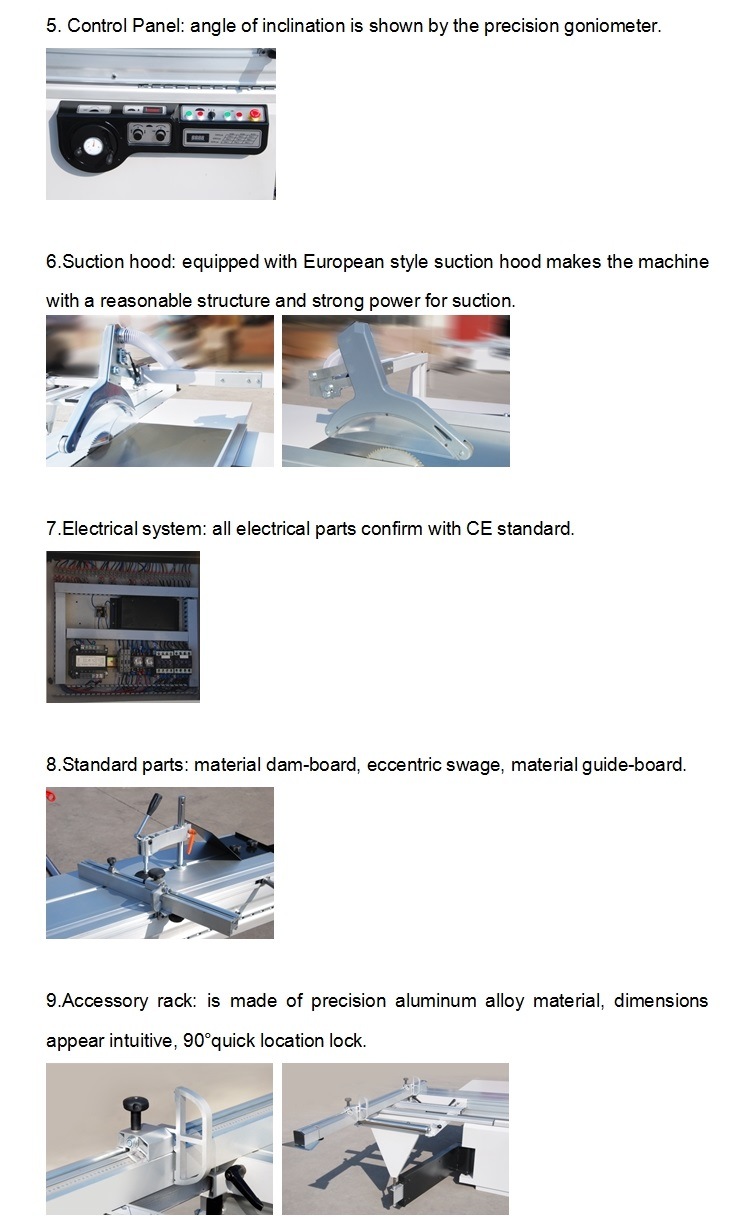 1.Material dam-board: with high-precision, flexible movement and easy operation.

 

2.Movable workbench: it is linear steel pole guide way with high-precision, flexible and wear resistance.

 

3.Main saw blade and groove saw blade: angle of inclination is shown by the precision goniometer.

 

 

4.Machine core components: using pole guide way, makes the machine with high-precision and longer lifespan. 

 

5. Control Panel: angle of inclination is shown by the precision goniometer.

 

6.Suction hood: equipped with European style suction hood makes the machine with a reasonable structure and strong power for suction. 

 

7.Electrical system: all electrical parts confirm with CE standard.

 

8.Standard parts: material dam-board, eccentric swage, material guide-board.

 

9.Accessory rack: is made of precision aluminum alloy material, dimensions appear intuitive, 90°quick location lock.

Parameters:

 
Model
RTJ45
Cutting capacity of scoring saw
3000mm
Cutting width of right sawing  
 1240mm
Saw blade tilting angel
 90°-45°
Max diameter of main blade
400mm
Main blade diameter 
30mm
Scoring saw blade diameter
120mm
Scoring saw blade mandrel diameter 
20mm
Main blade(Scoring saw blade) speed 
3000/4000\5000(5600)r.p.m
Blade unit outlet diameter
120mm
Air suction quantity
1300m3/h
Worktable height
910mm
Sliding table width
378mm
Cutting height
130mm/92mm
Worktable size
1100X635
Main motor                        
5.5KW
Scoring saw motor
0.75(1)KW(HP)
Machine weight
775kg
Overall dimensions(mm)
3400*3700*1500
Package size(mm)
2195*1150*1070
Sliding panel table:
 3300X435X280
 Reasons to choose Samach:

1: good resources with No.1 quality in China

2: quick delivery

3: excellent after-sale services

4: 24 hours technical support through email or calls.

5: freind partner relationship.

Get the maximum return on your investment with Samach's affordable, flexible and user-friendly machines, designed to help you succeed by delivering maximum performance! 

 

Applicable Industry:

This is special CNC machine for drilling tube sheet, plates and flanges, mainly used in steel structure, tower, bridge and other industries.

Product Feature

1. CNC slider and drilling unit head, can control depth of holes, with function of drilling blind hole, reaming, chamfering.

2. Machine is controlled by PLC & servo motor, ensure precision positioning .

3. The machine have 4 work area with individual reference, workpieces can be clamped by hydraulic clamps at any area for drilling.

4. Machine equips with computer for software, it can use Auto CAD drawing directly, it also can process NC file which generated by TEKLA.

5. Scrap cleaner can collect all iron scraps and cutting liquid which is recycling.

6. The key mechanical, hydraulic and electric parts are all famous brands.

7. Optimized integration design for complete machine, no foundation requirements.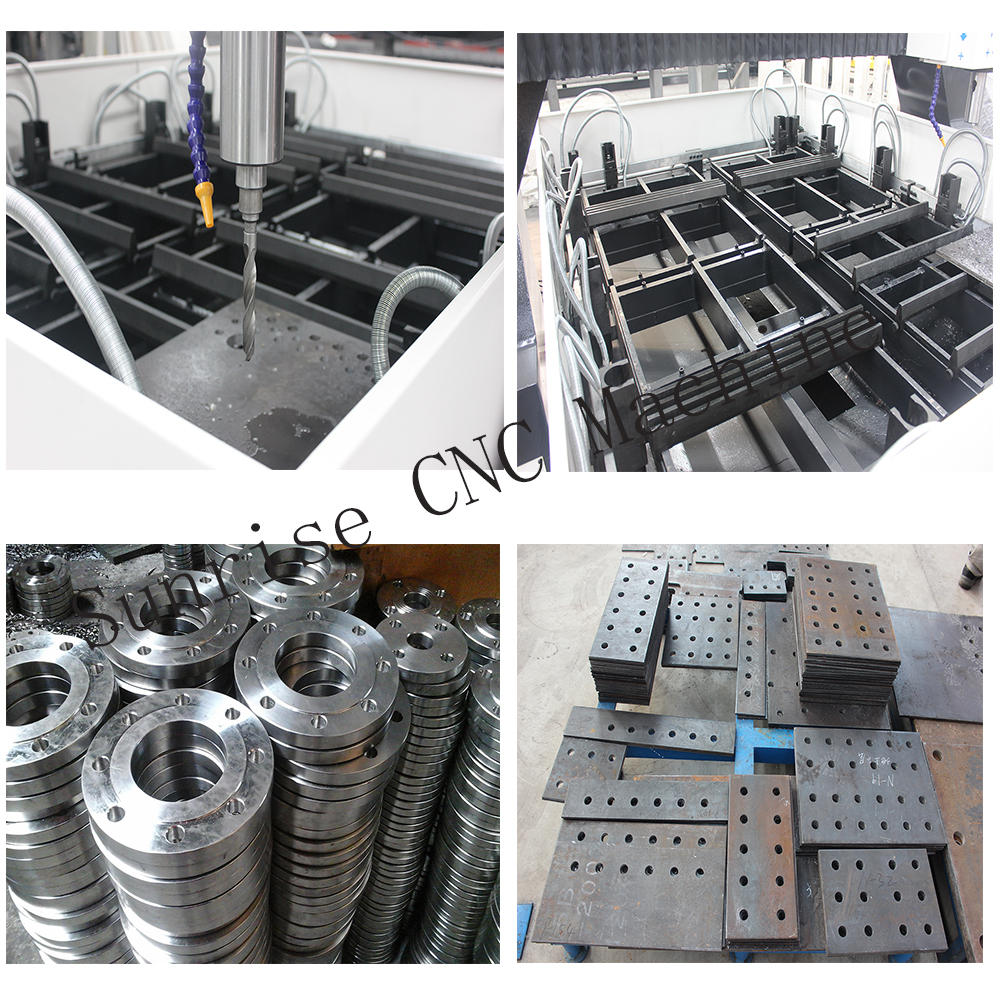 Specification:
Name
Specifications
machine type
Gantry moveable single spindle CNC Drilling Machine
Max work piece size (L×W)
2000×1600mm
If work piece is small size, it can be overlapped and processed at the same time.
Thickness of work piece
5~100mm
Height from table top to ground
800mm
Drill unit type
sliding table, servo control
Clamp type
Hydraulic clamp with 12 clamps
Drill head quantity
1
Max drill diameter
Φ50mm
Power of main motor
5.5 kW
Spindle speed
120~500r/min (frequency control)
Spindle vertical stoke (Z axis)
350mm
Drive mode of gantry longitudinal (X axis)
Guided by linear rolling guide; driven by AC servo motor and ball screw pairs.
Servo motor power of X axis
1.3 kW
Power head lateral driving type (Y axis)
Guided by linear rolling guide; driven by AC servo motor and ball screw pairs.
Servo motor power of Y axis
1. 3 kW
Servo motor power of Z axis
0.85 kW
Motor power of chip cleaner
0.4 kW
Motor power of cooling system
0.42 kW
Motor power of Hydraulic station
2.2kW
Clamping type
Attach Morse 4# quick chuck and 3#, 2# reducing sleeve
Electric control cabinet
With dustproof ventilating device and LENOVO computer
Electric control type
MISTUBISHI PLC
CNC axis quantity
3
With function of CAD/CAM automatic generation
with function of hole site memory (memory hole site if power off suddenly) and drill pause
Total power
≈12 kW
Total weight
About 6200
Overall dimension
4.5×2.61×2.85
Our Service
Installation:
The seller shall send one engineer to the buyer's country for installation, commissioning and training. The buyer is responsible to provide all necessary equipments for handling and lifting the machine parts before seller's engineers go to the buyer's plant. In addition, the buyer should provide workers to support in installation activities, under supervision from the seller's engineers.
Commission:
The Supplier should give drawings and other details of material/preparation required for installation of machinery which the buyer has to prepare and keep ready before the machine arrives at the buyer's factory. Installation and commissioning can be finished within 5-10 days for above machine generally.
Training:
Training will include training on computer programming, machine operation and troubleshooting. The training time is at most 5 days for this machine.

The buyer should arrange no less than two people for accepting training. After training, the buyer should sign the "Receiving & Inspection Report" supplied by the seller to demonstrate the successful finish of commissioning and acceptance of the buyer.

Our Company
Factory:
With the development of SUNRISE, now our company has occupied important position in this industry. Due to the orders and sales performance is continuously improving, in order to better development, to meet customer's demand, and to provide customers high-quality equipment with the shortest time, our company have bought the new site,

the area about 50,000 square meters,

this will make sufficient preparation for development of our company and every customer.
Workshop:
Quality make brand, honesty win market, harmony converge talents, and innovation promote development. Our ability to consistently provide innovative, high quality products that outlast and outperform the competition, is why we are the one of the most successful companies offering the most advanced and productive solutions in the CNC machine industry.
Warehouse:
Manufacturing customer oriented products has always been our supreme concern. We believe that quality is the soul of an enterprise forever. Therefore, we never compromised with the quality of our products. We adopt advanced, scientific modern management ideas and system to realize supervisory control among all aspects of produce, inspection, sale and service etc., which help control quality, increase work efficiency and guarantee products' stability, reliability and precision. Therefore, the enterprise can achieve rapid and sustainable development.
Team:
We are a team of experienced and dynamic professionals who are experts in handling precision work through scientific processes. The professional excellent talents unite a powerful and creative team of design, research and development, which build our solid technical strength and competitiveness. And our company is developing fast and supply specialized service to all customers.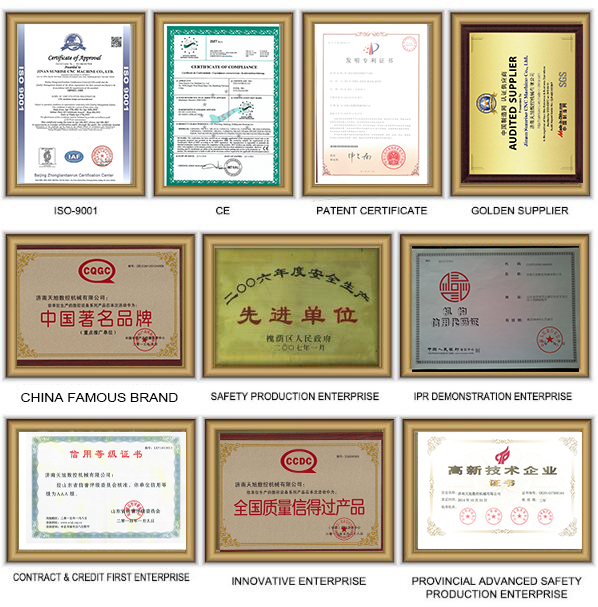 Tube Sheet Drilling Machine,Drilling Machine For Channel,CNC Plate Tube Sheet Drilling Machine,CNC Metal Drilling Machine

Shandong Sunrise CNC Machine Co., Ltd , https://www.scmcnc.com